Audio and video technology
From the connection point to the multimedia halls. Digital control systems for audio and video technology.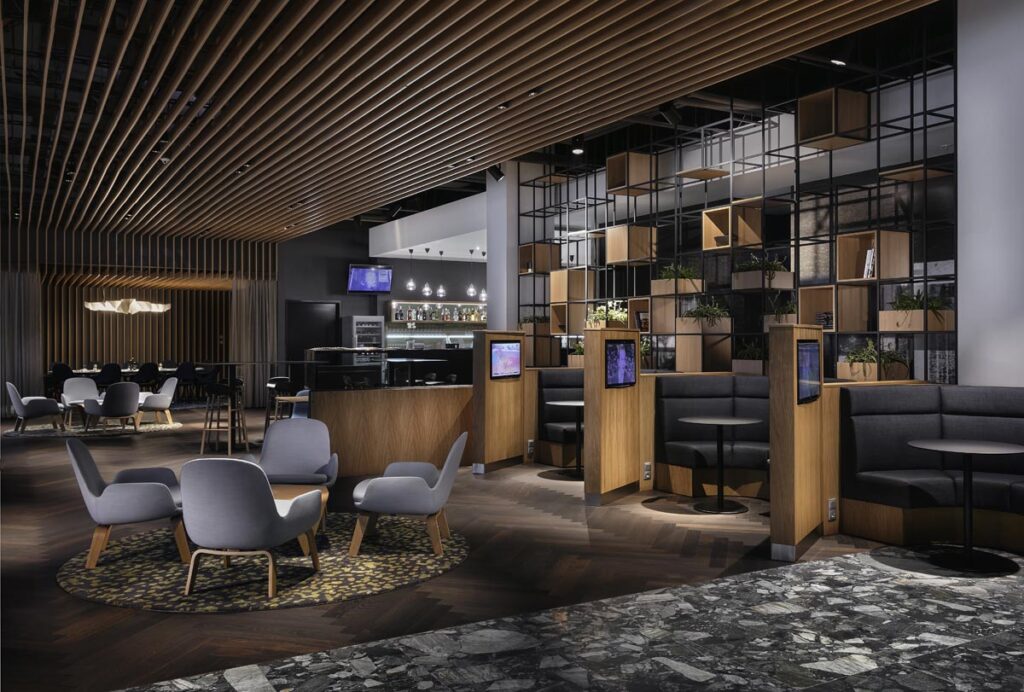 We can design, deliver and install comprehensive solutions for all types of projection technology applications:
We offer everything from data projectors and video projectors to projection screens, whiteboards and LCD displays. By combining state-of-the-art presentation and projection technology with excellent service, we achieve unique solutions such as employee breakout rooms, boardrooms, training rooms, dispatch centers, LCD projection walls or other special projects.
We design and install solutions for reservation systems, small display systems in each meeting room to visualize the occupancy of the premises. We connect the systems to communication systems such as Microsoft Outlook and others for sharing resources in a hybrid way of using office space. We address technologies related to room occupancy in the form of IoT sensors (occupancy and motion sensors) with connections to building management and intelligent control systems. We provide QR and wireless identification and access control systems.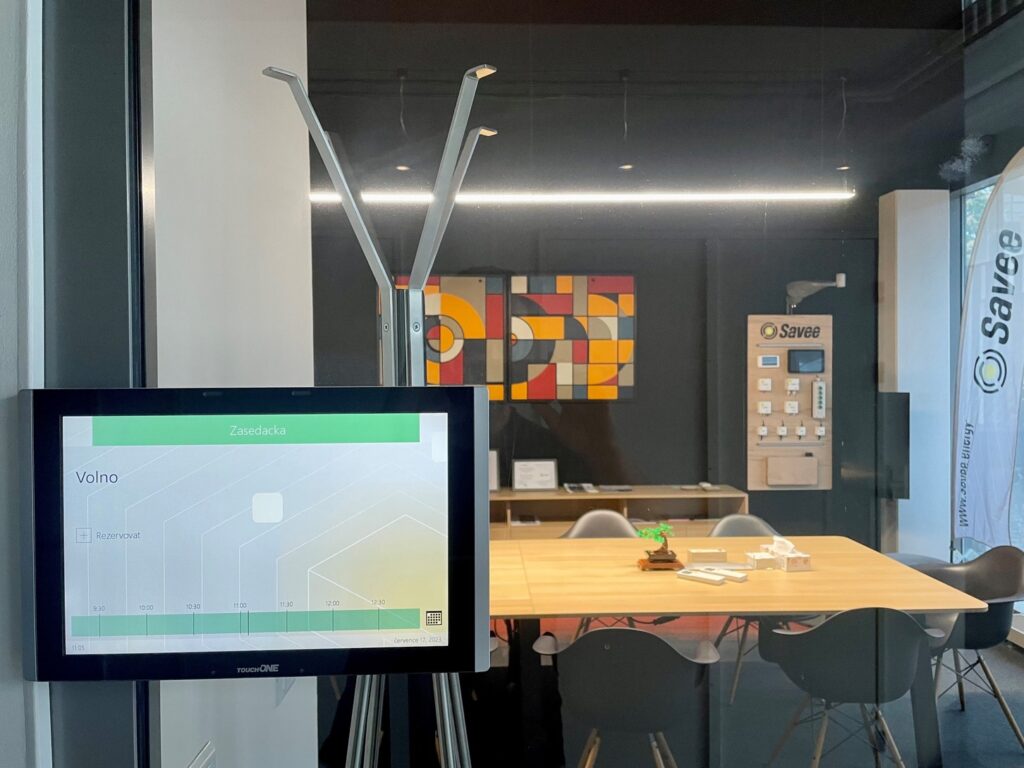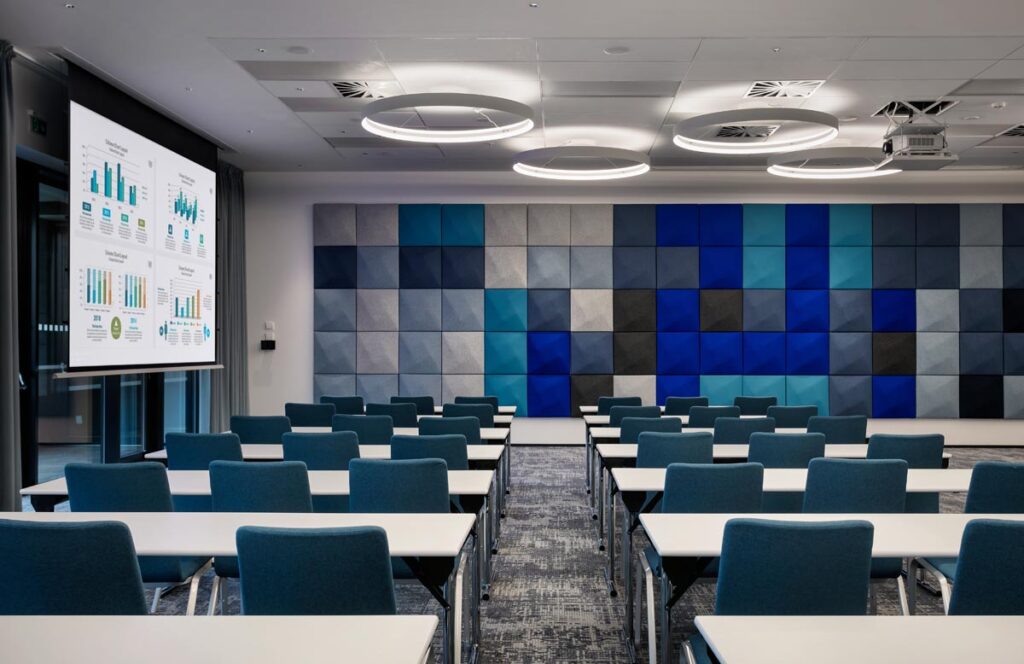 We supply control systems for your convenience. A central control system takes care of the technology for you, so you can focus on your presentation, visit or just relax. At the touch of a button, the screen starts, the projector switches on and switches to the desired input, the room lights dim, the blinds close simultaneously, the audio system switches on, your company logo is displayed on the projection screen and the presentation begins.
We handle both wired and wireless systems, without interfering with the current state of the buildings. We have the experience, references and know-how to help you solve even non-standard requirements.
We supply and install various combinations of digital signage systems (DSS) and screens in the form of full LED walls, advertising totems, displays with elevator frames or stand-alone screens.
It is an interconnected system of digital display devices – displays and screens in public or private spaces. Their purpose is to display advertising, information or navigation data in text or graphic form (pre-prepared or generated photographs, video clips, time, weather, etc.).
DSS systems are used both in large companies for displaying content for employees (replacing bulletin boards) and for restaurants to display menus or as a navigation system. We connect the systems to the customer's LAN, or fill them with content remotely via the Internet.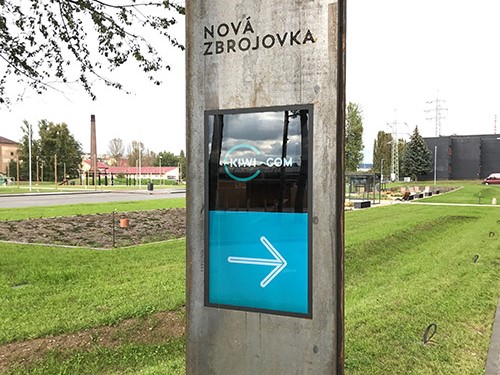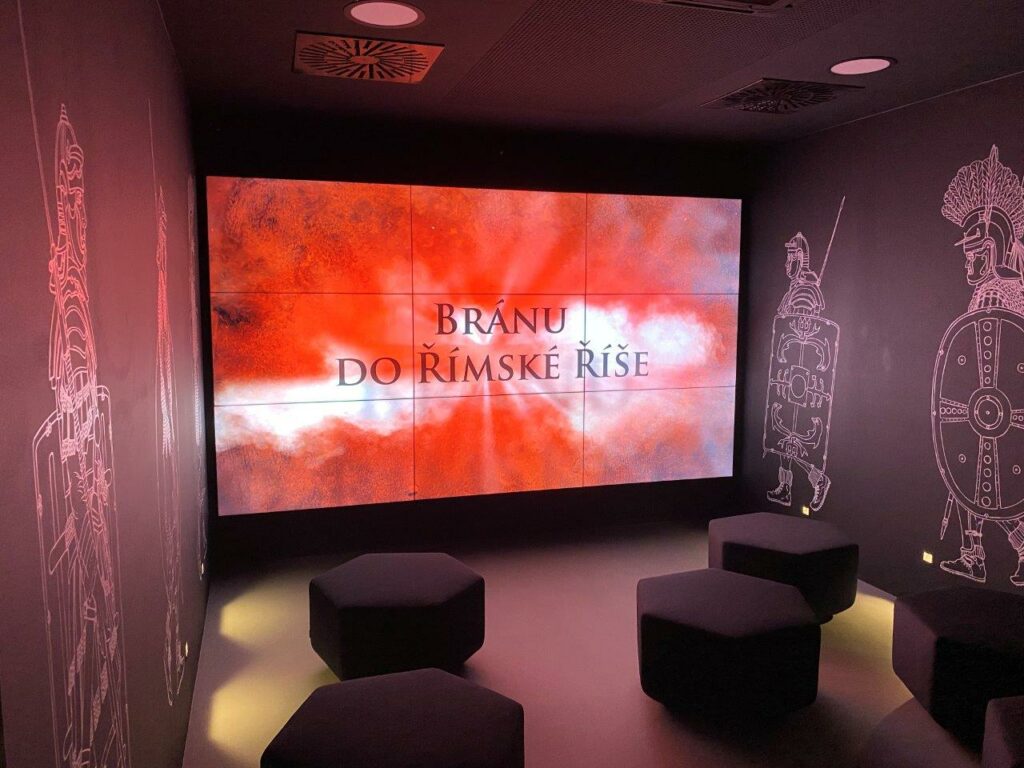 Sound reinforcement of the premises
We provide design and installation of interior and exterior sound systems with modern and branded systems and speakers. A comfortable, professionally designed and installed sound system is an integral part of any modern interior. The elegant appearance of a restaurant or café need not be disturbed by large and unsightly speakers that disturb some guests while others cannot hear the music at all. It is necessary to think about a suitable sound system when building or renovating. The wiring of the sound system should be installed at the same stage of construction as the normal wiring. An individual solution must be prepared for each space and purpose, which is why a personal on-site consultation is always important.
After providing the project documentation of the space to be designed, we will prepare a sound system design including a sound coverage study and selection of suitable loudspeakers. It is also possible to connect to superior building management systems or to the evacuation radio (ER) or the building fire alarm system (EPS).
For atypical applications and piece production in AV technology we use 3D printing – FDM method, which is one of the most used technologies for creating prototypes and functional samples of products. With 3D printing we can create complex shapes and constructions. To create the basis for 3D printing we use modeling with 3D tools (Autodesk software), including the possibility of creating complete detailed documentation.
Product development incorporating additive manufacturing gives us and our customers a huge advantage in reducing the lead time or developing an atypical or new product, including quickly optimization the design to ensure that the product is truly perfect and ready.